The 2023/24 season was announced on February 19th and was met with a ton of enthusiasm (and rightfully so, once you see what productions we have coming up). We have compiled a list of 10 reasons why you should be looking forward to the new season!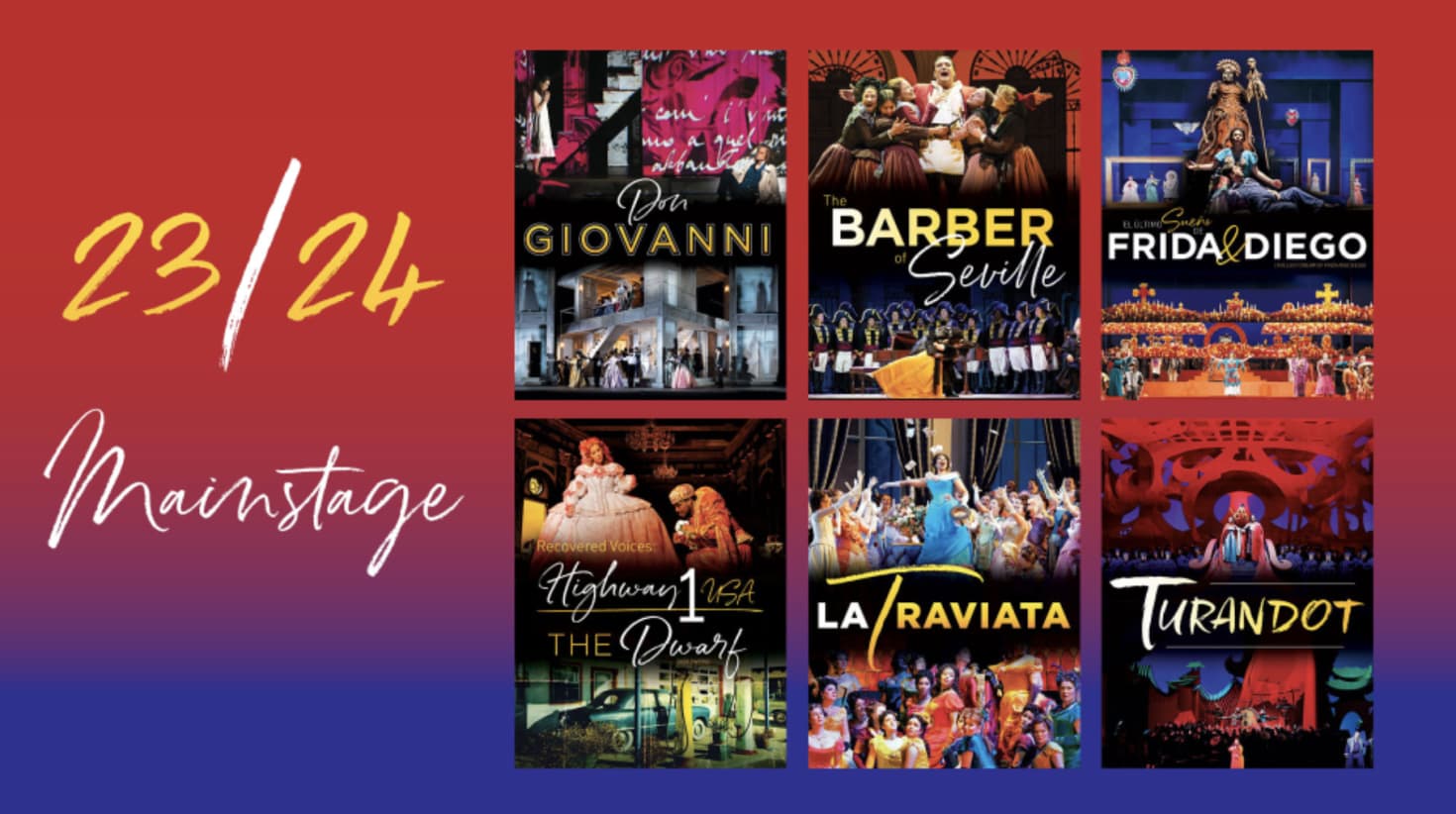 The season includes two important mainstage company premieres, both created by composers of color: The Last Dream of Frida and Diego and Highway 1, USA. The latter comes as part of a revival of the Recovered Voices initiative, dedicated to showcasing works that have been historically neglected or censored.



Three mainstage productions return to LAO for the first time in several years: Turandot (last here in 2002), Don Giovanni (2012), and The Barber of Seville (2015).


The 2023/24 season introduces a variety of blockbuster productions all new to LA (except for The Dwarf, the season's sole revival) encompassing a wide range of operatic styles, guaranteed to move and entertain audiences.

Grammy Award-winning baritone Lucas Meachem returns as the ill-fated heartbreaker Don Giovanni and Grammy Award-winning mezzo-soprano Isabel Leonard will be making her debut in two roles, as Donna Elvira in Don Giovanni and Rosina in The Barber of Seville.

LAO resident conductor Lina Gonzalez-Granados will lead the production of The Last Dream of Frida and Diego. This dazzling Spanish-language production, which explores the complex relationship between iconic Mexican artists Frida Kahlo and Diego Rivera, is a collaboration between Grammy Award-winning composer Gabriela Lena Frank and Pulitzer Prize-winning playwright Nilo Cruz.


There will be two incredible Off Grand productions: Huang Ruo's The Book of Mountains and Seas at the Broad Stage in Santa Monica, and The Bride of Frankenstein: with Live Orchestra at downtown's stunning Theatre at Ace Hotel.


A vibrant production new to LA, La Traviata, will be directed by Shawna Lucey, starring Rachel Willis-Sørensen as Violetta.


Our Music Director James Conlon will be conducting four of the six mainstage productions, as well as a community production of Benjamin Britten's Noah's Flood at the Cathedral of Our Lady of the Angels.


The six-time Tony Award winner, two-time Grammy winner, and Emmy winner Audra McDonald returns for a one night only concert. (Fun Fact: she guest-stars in HBO's The Gilded Age, which will return for a second season in 2023).


Emmy-winning composer Joel Thompson presents the world premiere of Fire and Blue Sky, a major new full-scale concert work written for and performed by LAO artist in residence Russell Thomas, one of the foremost tenors of our time.

There are many other reasons to be excited for the next season! Click here to see the full list and more details of the upcoming mainstage productions, concerts, recitals and Off Grand shows for our 2023/24 season.