In honor of Black History Month and in celebration of our 2023/24 season announcement, we want to honor the life and achievements of trailblazing African American composer William Grant Still. His opera Highway 1, USA is included in next season's productions as part of the return of the Recovered Voices project, which is dedicated to showcasing works that have been historically neglected or censored.
Wiliam Grant Still was born May 11, 1895, in Woodville, Mississippi, to parents who were teachers and musicians. He showed musical promise in his violin lessons and excelled at the cello and oboe.
A man of many "firsts," Still is hailed as "the Dean of African American Composers" for his laundry list of achievements. The Library of Congress recognizes him as the first African American composer to have a symphony performed by a professional orchestra in the United States. His Symphony No. 1 "Afro-American" was premiered in 1930 by conductor Howard Hanson and the Rochester Philharmonic, and it was performed by the New York Philharmonic at Carnegie Hall in 1935. He also became the first African American to conduct a major symphony orchestra in the United States when he led the Los Angeles Philharmonic in 1936. His repertoire of symphonies, operas and other works total over 150 and he received an honor for Outstanding Service to American Music from the National Association for American Composers and Conductors.
In the operatic world, his 1949 opera Troubled Island was the first by an African American to be performed by a major opera company, New York City Opera, and that same opera was the first by an African American to be nationally televised.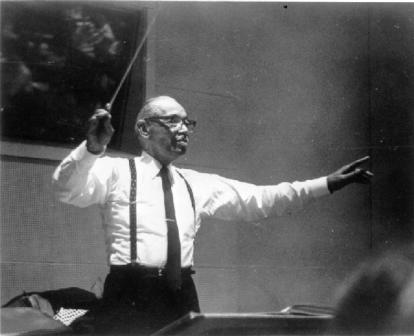 He composed Highway 1, USA in the 1940s, but was unable to secure performances for many years afterward. It didn't get a professional production until 1972. Its first major production only came in 2021, when Opera Theatre of Saint Louis presented it with Will Liverman and Nicole Cabell in the leading roles, conducted by Leonard Slatkin. Still's daughter Judith Anne Still recalled that "He wanted most of all to be known as a composer of operas... Most opera companies in the 20th century would not do the operas of William Grant Still because of his color. The fact that Still operas were not done, while Porgy was done, broke the composer's heart."
Still used unique African American styles in his compositions that distinguished his work. He preferred simple, commercial harmonies and orchestration, executed with the highest professionalism and seriousness of purpose. He passed away December 3, 1978, and was inducted into the American Classical Music Hall of Fame in 1999.